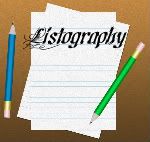 When I saw the theme for this week's Listography over on the Kate Takes 5 blog, I knew it was another one I was going to have to join in with. You see, I have a bit of a "thing" for cookbooks. Over the years I have collected many, many cookbooks. I'm not so good at actually using them, but I like collecting them. I think my fundamental problem is that I don't like cooking very much. And I also find it very difficult to read a recipe and imagine how it might taste. But somehow that doesn't stop me buying cookbooks.
When Kate asked us to list our top 5 cookbooks, I knew immediately which 5 I would pick. You see despite the large numbers of cookbooks I have in my house, I've worked out I only actually use 5…
1. The Slimming World "Extra Easy" cookbook
I followed the Slimming World plan for almost a year after having the geekson, and it really worked – I lost 2 stone (which I have sadly gained back now). Despite not following the plan any more, this cookbook remains a firm favourite, as it is chock full of healthy, easy, sensible family meals.
2. How to feed your whole family a healthy, balanced diet with very little money and hardly any time, even if you have a tiny kitchen, only three saucepans (one with an ill-fitting lid) and no fancy gadgets – unless you count the garlic crusher…
I was attracted to this book by the title, and it sat on my Amazon wish list for a little while until I lost patience and bought it for myself! Some good family recipes in here, and I particularly like the section at the end which presents an assortment of weekly meal plans along with the costs from various supermarkets. Haven't actually looked at this one since I stopped Slimming World, so I must go back to it again.
3. My Daddy Cooks
My most recent cookbook purchase this one, and it's already been extremely well-used. A good assortment of family food, and all very easy to follow as well. I've cooked quite a lot of dishes from this book, and they've all been delicious – in fact the geekdaddy told me that he thinks the beef and ale stew from this book is the best stew he has ever tasted!
4. BigOven
Does an app count as a cookbook? I think this one does, as it's a cookbook app. The BigOven app is free on both iPhone and iPad, and comes with a HUGE library of recipes (over 170,000). What I use it for is as a place to collect all my own recipes, and I particularly like the feature where you can take a photo of a recipe with the camera in your device, send it off, and it'll appear in your personal recipe area. Meal planning was recently added to the app as well, but I've not played with that yet.
5. My "going to University" cookbook
Last but by no means least is the singularly most well-used cookery book in my collection. Almost 23 years ago (*gulp*) I left home and headed off to University, having done very little cooking in my life. Home Economics classes at school had done very little for my confidence in my cooking ability (and to this day we don't mention my one and only attempt to make pastry!). My Mum was obviously very concerned about me, so she got a notebook, and wrote out a few "staple" recipes for me, so that I had the basics I needed to survive. I still use recipes from this little book today…
Do you know what, since I left home, I have never cooked liver once (sorry Mum)! But I've cooked everything else she wrote in this book for me 🙂
That's my top 5 cookbooks, now head on over to Kate's Listography page to see what other peoples' top 5 are.